We design, develop and deliver technologies that help ensure your beers, spirits or extracts are the very best they can be.
Meura 2001 Micro
Meura has always developed innovative technologies and equipment offering competitive advantages to brewers.
For more than 100 years, Meura has been developing mash filtration technologies. In order to fulfil its customers' requirements, Meura has developed different kinds of mash filter.
Meura has a wealth of experience in mash filtration with more than 450 Meura 2001 mash filters installed all over the world.
More than 25 years ago when the Meura 2001 filter was introduced to the industry, only one filter size, called the Meura 2001 Senior (from 4 to 30 metric T throw), was available, mainly aimed at large lager brewers. At the end of the 1990s, due to increasing demand by medium-sized breweries, Meura introduced the Meura 2001 Junior filter (from 0.5 to 3 metric T throw).
The Meura Micro 2001 can take a throw of up to 1000 lbs. (500 kg) of malt. Meura has sized its mash filters to fit the needs of the typical brewhouse sizes.
---
Griffin Claw Brewing Company, USA
Hellbender Brewing Company, USA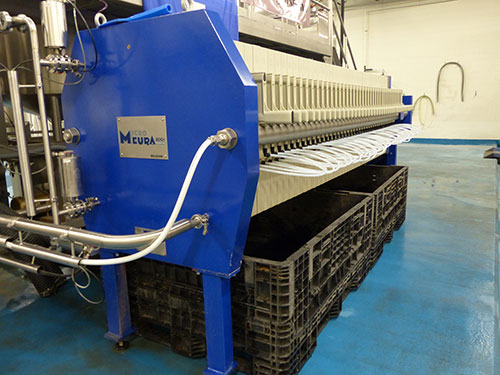 Brouwerijwest, USA